Jay Whiston murder: Two men to attend Colchester Magistrates' Court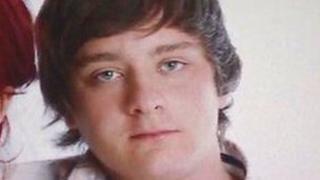 A father and son are due to appear in court in Essex next month charged with intending to pervert the course of justice in connection with a murder.
Jay Whiston, 17, was stabbed at a house party in Colchester last September.
Gary Redman, 51, and John Redman, 19, from Halstead Road, Colchester, have been bailed to attend the town's magistrates' court on 3 September.
Edward Redman, 18, of the same address, is in custody ahead of his murder trial which is due to start in January.
A 42-year-old Colchester woman who was arrested on suspicion of assisting an offender has not been charged.
However, four other people have been charged in connection with the murder.
Rhys Hennebry, 18, from Gurdon Road, Colchester, is due to appear at Chelmsford Crown Court on 10 September, charged with affray.
Alan Loughlin, 18, from Titania Close, and Kieran Marsh, 18, from Creffield Road, both in Colchester, are in custody and due to appear at Chelmsford Crown Court on 7 October, charged with three and two counts, respectively, of witness intimidation.
Shannon Fenlon, 18, from Jameson Road, Clacton, has been charged with encouraging the commission of witness intimidation and is on bail until she appears before Colchester magistrates on 27 August.
Jay died in hospital shortly after being attacked at a party in Marlowe Way on 8 September.
A post-mortem examination found Jay, a student at Tendring Technology College, in Frinton, was killed by a stab wound to the heart.