Tilbury biomass power station is turned off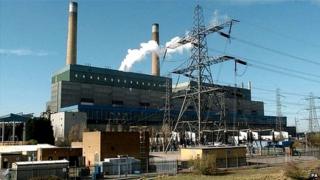 The plug has been pulled on a power station which "kept the lights on in the UK" during the miners' strike of the mid 1980s.
The Tilbury plant on the River Thames in Essex had been in operation for 46 years.
But power production at the site, which runs on biomass, has now stopped. About 220 jobs will be lost.
Manager Nigel Staves said it was a "very sad day" for those connected with the plant which had a "colourful" past.
The plant had been converted from coal to wood pellet and waste oil fuel.
But plans to extend the life of the station were dropped because the plant was ineligible for a government low carbon technology scheme.
Mr Staves said: "The power station has been part of the local community for 46 years.
"In 1984 and 1985 (during the Miners' strike) Tilbury kept the lights on in the UK, bringing in imported coal and running flat out during those strikes and the three-day week.
"It has had a really colourful life. It has had one or two fires, such as the major one in 1977 when its cable tunnels caught light and were on fire for three days.
"It was the first day of a fireman's strike and so green goddesses (army fire crews) and volunteers came to fight the fire."
Owner RWE Generation said the station would be fully closed down in October.