Colchester Zoo warning as red river hog goes on the run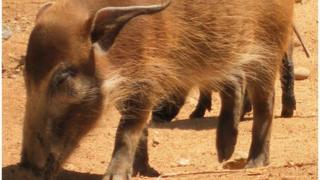 Zoo keepers are trying to track down a wild pig after it went on the run from an Essex zoo.
Residents living near Colchester Zoo in Stanway have been warned not to approach the red river hog.
It is not known how the animal escaped, but it is thought it fled after it was disturbed by a trespasser or animal.
Red river hogs, which come from west and central Africa, are not thought to be dangerous but the zoo has asked people not to approach it.
The young hog escaped last week but efforts to find it have so far been unsuccessful.
Anyone who sees the female pig, which is about the size of a large dog, is asked to contact the zoo.