Essex Fire Service China trip paid for by camera firm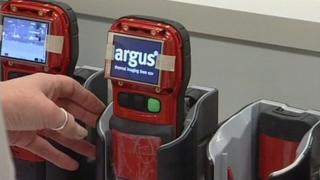 Essex Fire Service has admitted accepting flights and accommodation from a firm that supplied it with equipment worth thousands of pounds.
Two officers visited China last week on an Essex County Council trade mission.
A BBC investigation has learned that the £2,000 cost of their trip was paid by Chelmsford-based company e2v.
Essex Fire Service said neither officer had procurement responsibilities and no procurement decisions would be influenced by the trip.
A spokesman said assistant chief fire officer Paul Hill and assistant divisional officer Costa Olymbios had travelled to China under "commercial sponsorship" from e2v.
The company manufactures thermal imaging cameras, some of which are used by Essex Fire Service.
'Conflict of interest'
Julie Young, a Labour member of Essex Fire Authority, said: "The general public might perceive there's a conflict of interest here.
"I do think you have to be very careful about having things like this paid for in case there is a perception there is some kind of influence being purchased."
Matt Wrack, general secretary of the Fire Brigades Union, said: "It's not the role of fire and rescue service to promote particular products, and procurement procedures must be seen to be above board.
"Particularly at a time of cutbacks in Essex and across the country, council taxpayers will expect senior fire officers to be engaged in providing a fire service for their county."
The fire service spokesman confirmed some of the 41 thermal imaging cameras it has bought since April 2006 were manufactured by e2v, but was unable to say how many.
The company's Argus-branded cameras cost between about £3,200 and £8,000.
The spokesman said fire officers visited Jiangsu Province primarily to promote the benefits of Chinese firefighters training in Essex, which would generate revenue for the service's commercial arm, EFA Trading.
"In the current economic climate [the service] is looking to do all it can to reduce cost pressure on council taxpayers," he said.
"Revenue-generation opportunities like this will play an increasingly important role in this respect."
In a statement, e2v said the presence of the officers on the trade mission "complemented" its objective to promote its products to Chinese firefighters.
"As such, we valued the opportunity to work alongside the officers, the council members and others on the trade mission," it added.