'Treasure map' takes sisters to lost wedding ring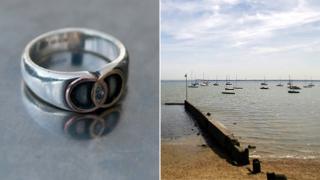 A woman has been reunited with the wedding and engagement ring she lost in the sea after her sisters used a "treasure map" to help them find it.
Kelly Pawlyn, 47, lost the custom-made ring while swimming off Leigh-on-Sea, Essex, with her children.
The family had to head home to Kentish Town, London, but Mrs Pawlyn drew a map for her sisters Alexandra and Judy, who used it to locate the ring at low tide.
Mrs Pawlyn, a photographer, said: "I'm so relieved and very grateful."
The silver and diamond combined wedding and engagement ring was designed by Mrs Pawlyn's husband, Michael, 46, an architect.
'I felt lost'
She lost it while swimming with her children Umi, 12, and Sol, 10, and two of their friends in about 6ft (1.85m) of water on Friday.
"All of a sudden it just fell off my finger. I saw it dropping down and I thought 'That's it - I won't see it again,'" she said.
"I was quite upset. I do have a real emotional attachment to it and I felt quite lost without it."
Her sisters Alexandra Parker, 45, and Judy Hill, 39, volunteered to search for the ring at low tide that evening.
"They seemed quite confident they would find it, but I honestly thought I'd never see it again," she said.
"I knew where it was but I thought the tide would take it away.
'There it was'
"I drew them a map and marked an 'X' where I'd dropped it - 'X' marks the spot."
Her sisters went to the beach that evening.
"We were hoping we would find it but we had open minds," said Mrs Parker, of Leigh-on-Sea.
"The map was incredibly accurate. Judy said 'I think it's to the left a bit' and turned her head, and there was the ring, shining in the sun and just glistening.
"It was amazing, really."
They sent pictures of the ring, which had been wedged between two pebbles, to Mrs Pawlyn's mobile phone and she was reunited with it the following evening.
"I was bowled over," she said.
"I felt like a long-lost friend had been returned and was back on my finger."