Boris Johnson confronted by Unite at London Gateway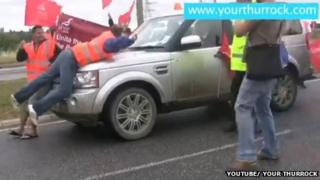 Mayor of London Boris Johnson was confronted by trade union protesters after visiting a new deep sea container port in Essex.
Members of Unite surrounded the mayor's car and one clung to its bonnet as it left DP World London Gateway.
Unite said it had hoped to speak to Mr Johnson about DP World's "refusal" to recognise the union at the port.
DP World said if a majority of workers wished to be recognised, it would enter talks with the relevant union.
The mayor's office declined to comment on the incident, which happened as a silver Land Rover containing the mayor left the new port at Stanford-le-Hope.
Clinging to bonnet
Video footage posted on YouTube shows a group of Unite members standing in the road in front of the vehicle and placing Unite flags in its door handles.
As protesters call out to Mr Johnson, the driver begins to edge forward slowly.
One man clings to the bonnet of the vehicle and was carried several metres before jumping off and standing clear.
The Land Rover then drives away.
The protest was part of Unite's campaign to highlight what it claims is DP World's failure to deliver "basic labour rights for workers".
The union's general secretary Len McCluskey has said he "will not countenance the establishment of a major non-union port in Britain".
'Keep driving through'
Jane Jeffery, regional officer for Unite, said: "We went along to the site with our flags and banners to say 'come and talk to us'.
"When we tried to talk to Boris, security said 'Keep driving through'.
"He shouldn't have done that, and we should not have been in the road where cars were."
She said Mr Johnson gave protesters a "thumbs-up" from the passenger seat of the Land Rover.
Xavier Woodward, of DP World London Gateway, said the company "fully respects the legal right and free choice" of all employees to belong to any union.
"Likewise, if a majority of our people wished to be recognised, we would respect their wishes and enter into further discussion with the relevant union," he said.
"We have met Unite four times in the past 12 months and made this point on each occasion."
The company claims the new port, due to open later this year, will create 27,700 jobs for London and the South East and contribute £2.4bn to its economy
Mr Johnson said it would re-establish London as one of the world's greatest ports.
"This gargantuan site will create tens of thousands of jobs in our capital and the South East, whilst helping to drive continued prosperity for the rest of the UK," he said.
"DP World's investment is a huge boost to the economy and a massive vote of confidence in London's future."