Stansted Airport expansion plans revealed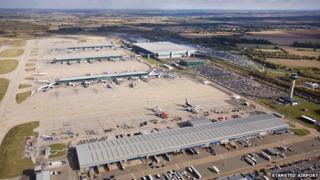 Capacity at Stansted Airport could rise from 17.5 million to 160 million a year to help meet growing demand in the South East, its owners said.
The Manchester Airports Group (MAG) submitted potential options to the Airports Commission that include a £10bn "hub" with four runways.
Campaigners against expansion called them irresponsible and opportunistic.
Charlie Cornish, chief executive of MAG, said developing Stansted would be a "pragmatic approach".
The expansion plan has been submitted to the government-appointed Airports Commission, headed by former Financial Services Authority chairman Sir Howard Davies.
'Best for passengers'
It is reviewing how the UK might expand its airport capacity in south-east England.
Mr Cornish said: "Stansted is uniquely placed to meet the UK's aviation capacity needs now and over the next 15 years.
"Almost overnight, Stansted could double the number of flights it handles without any need for significant investment in new infrastructure.
"Looking to the long-term, the interests of passengers will be best served by a pragmatic approach, focused on delivering new capacity that is cost-effective and flexible, and capable of driving competition across the aviation industry.
"Developing new capacity at a number of airports is likely to be best for passengers.
'Completely unnecessary'
"Should the Commission take a different view and conclude that the UK needs an effective hub to provide international connectivity, then Stansted could certainly fulfil that role in a cost-effective way."
Peter Sanders, Stop Stansted Expansion chairman, said the MAG proposals had been "framed" in an "unenthusiastic, half-hearted way".
Mr Sanders said: "We will be doing everything possible to convince the Airports Commission to reject the idea of any new runways at Stansted.
"With the airport currently operating at only half its permitted capacity a second runway - never mind a four-runway hub double the size of Heathrow today - is completely unnecessary on business grounds and it would be completely unacceptable on environmental grounds."
The Airports Commission will consider MAG's proposals for Stansted alongside expansion proposals it has received for Heathrow, Gatwick and Birmingham and plans for a new airport in the Thames Estuary.
The commission is due to produce a shortlist by the end of the year and make its final recommendations in two years' time.