Jobless graduate who gave CVs on trains is offered job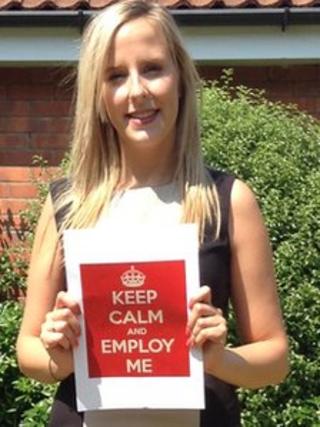 An unemployed graduate who was handing out her CV to commuters in Essex has been offered a job.
Luisa Downey, from Colchester, has been boarding London-bound trains at her local station and travelling to surrounding towns to target passengers.
The 23-year-old left Essex University in 2011 with a 2:1 degree but has been unable to find suitable work.
Caroline Seear, who runs a recruitment firm, said she wanted to hire Miss Downey.
Making the offer live on BBC Essex, Ms Seear, of the firm Red Recruit, said Miss Downey had done a "fantastic thing" in handing out her CV.
Discussion
"I was so impressed. It is the sort of thing I would be doing if I was out of work," said Ms Seear, managing director at the firm's office in Maldon.
"She is the sort of person I am looking for."
Miss Downey, who was looking for advertising and public relations work, was told Red Recruit needed somebody to fulfil that role with them.
"This is more than I ever thought would happen," said Miss Downey.
Miss Downey and Ms Seear are now expected to meet to discuss the job role in more detail.