Earls Colne aeroplane collision pilot 'lost control'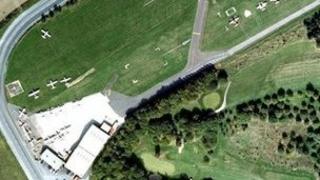 A plane carrying three passengers crashed into two stationary aircraft after the pilot "lost control", an investigation has found.
The privately-owned Piper aircraft was landing at Earls Colne Airport in Essex when the accident happened on 7 April.
An Air Accidents Investigation Branch (AAIB) report found the pilot braked but veered off the runway.
The 48-year-old airman told the AAIB he tried to correct the situation but was "unable to avoid" two parked planes.
No-one was injured in the collision, but the aircraft's wings and fuselage were "severely damaged".
The report concluded: "The pilot assessed the cause of the accident as a loss of control on landing as he was unable to correct the veer to the left on the runway.
"This caused the aircraft to run on to the grass and despite his efforts to correct the situation he was unable to avoid the parked aircraft."