Tilbury's huge biomass power station to shut with 220 jobs lost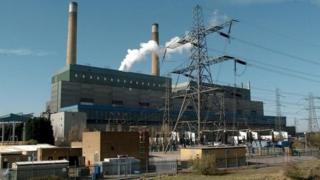 The largest biomass electric power generating station in Europe is to close with the loss of 220 jobs while a feasibility study is carried out.
The plant on the River Thames at Tilbury in Essex was converted from coal to wood pellet and waste oil fuel.
A fire in 600 tonne feed hoppers in February 2012 temporarily stopped power generation at the station which supplies 1% of National Grid needs.
Owner RWE Generation said it would shut on 31 October this year.
RWE Generation said the biomass project was a work in progress and that now was the time to carry out an assessment and review.
The firm believes biomass still has a role to play in the future and the decision to "opt out" the plant was very difficult.
Plans were made during 2012 to bring Tilbury up to new plant standards and create a dedicated biomass power station that would be operational for the long-term.
'Need to encourage investment'
However Roger Miesen, chief technical officer at RWE Generation, said: "It is with regret that we are announcing the decision to halt the Tilbury Biomass project.
"This decision has not been taken lightly. Tilbury remains a good site for future power generation."
Thurrock Conservative MP Jackie Doyle-Price said she was concerned about the UK's ability to generate its own sustainable power if projects like this do not go ahead.
"I can't understand the RWE decision considering how much they must have put into the project and its potential contribution to the National Grid," she said.
"Nine coal fired power stations will be taken out by 2015 leaving a potential deficit on the National Grid.
"I would like the company to look again at the project.
"We have to make sure we have a regime that encourages investment in serious sustainable energy production which biomass represents," she said.