Brad Pitt shock for Essex and Suffolk water firm workers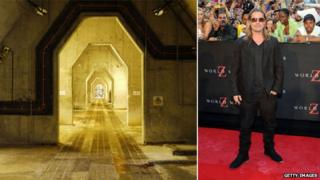 Staff at a water treatment plant knew their workplace was to be used for a movie.
But that did nothing to quell the surprise when Brad Pitt arrived via helicopter.
Essex and Suffolk Water's site in East Hanningfield was turned into a South Korean prison for World War Z, starring and produced by Mr Pitt.
Gary Banks, treatment operations manager, said all the stars in the film were "down to earth".
Although the two weeks of filming took place in September 2011, a confidentiality agreement meant staff could not talk about their experiences until now.
The film is based on a book by Max Brooks about a worldwide zombie apocalypse.
'Humbling and refreshing'
Mr Pitt plays Gerry Lane, a UN inspector chosen to investigate the source of a viral outbreak that has turned three billion people into zombies.
Mr Banks, who has read the book, oversaw security for the filming at the site.
"It was a bit of a secret with all these celebrities on site," said Mr Banks, who got to have a go on one of the motorbikes used in the film. "I said hello to Brad. He was doing his job and I was doing my job,
"He came across as a normal, down to earth guy.
"The others involved in the filming were out and about and some of our guys had their bacon sandwiches with them.
"They were so down to earth," said the 45-year-old. "It was really humbling and refreshing."