Essex Police arrest 16 in £1m Clacton elderly fraud probe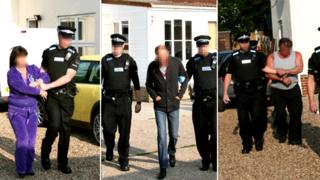 Police have made a number of arrests in connection with alleged frauds against the elderly understood to be worth more than £1m.
The case, police said, is centred on 39 alleged victims aged between 65 and 99 years old, all in the Clacton area.
The 16 people arrested are being held on a mix of suspected fraud and money laundering offences.
Essex Police said the operation earlier in Clacton and Colchester involved 65 police officers.
'Financial abuse'
Assistant Chief Constable Gary Beautridge said: "Over the past seven months my officers have been investigating a series of cases which appear to be the work of an organised crime group taking advantage of the elderly and vulnerable and exploiting them for criminal gain.
"During the investigation we have spoken to around 140 people who have assisted us in building a case to the point where we have now been able to make a significant amount of arrests.
"The offences we are looking at basically amount to the financial abuse of the most vulnerable members of our society.
"The evidence would suggest that these vulnerable people have been groomed and then preyed upon by a group whose sole intention appears to be to line their own pockets."
Police said they have worked on the case with Essex County Council's trading standards and adult social care team.