Dedham Vale gas marker poles are 'hideous', conservationists claim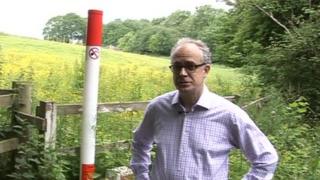 An area made famous by landscape painter John Constable is being blighted by red and white gas marker poles, conservationists claim.
A number of the poles marking the route of pipelines have appeared in Dedham Vale on the Essex-Suffolk border.
The Dedham Vale Society has described them as "hideous" and is calling for their removal.
National Grid said the poles were necessary so that helicopters could survey pipeline routes.
The poles, some of which are 9ft (2.75m) high, mark the route of high-pressure pipelines and replace smaller concrete posts.
'Completely inappropriate'
Charles Clover of the Dedham Vale Society said he had seen four within a quarter of a mile (400m) of each other in the vale.
"These poles are completely inappropriate to a rural location. You can see they are hideous," he said.
"This is an area of outstanding natural beauty and everything else has to have planning permission.
"I reckon that actually National Grid could have saved us a lot of money by doing it invisibly using GPS."
National Grid said tens of thousands of gas markers had been erected around the country as part of a £1.8m project.
A spokeswoman said the pipelines had always been marked but the markers had been replaced in line with the latest safety guidance.
Helicopters fly pipeline routes every two weeks to carry out visual safety checks, looking for any building or digging activity nearby.
"Preserving the natural beauty of our countryside is very important to us but keeping our pipelines safe is vital," she said.
"We have acted on the concerns of the local community and have surveyed the marker posts in the Dedham Vale area and, where applicable, some marker posts have been reduced in height."