Ex-Coryton refinery workers head to North Sea and Saudi Arabia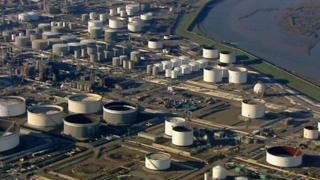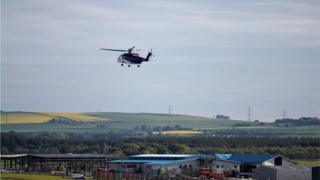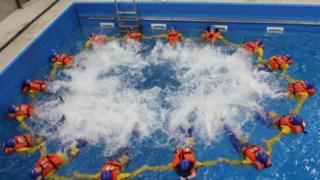 It was the big employer providing a living for hundreds of people in the area.
And then the news came - the Coryton Oil Refinery in south Essex was being sold.
Nearly all of the 850 or so workers would lose their jobs.
Although the writing had been on the wall - the refinery's Swiss owner Petroplus had gone into administration six months earlier - many believed it would never happen.
But it did.
And a year on, the former Coryton refinery workers can be found on the oil rigs of the North Sea or out in the Middle East.
For many, the past 12 months have been a year of shock, fear and upheaval.
'Devastating'
Mark Pullen, 45, had worked at Coryton for five years before he was made redundant last June.
His father's entire career was spent at the refinery, and his son Danny was an apprentice there.
He said he thought it would be a job for life, and when the refinery's owners went into administration, no-one believed the site would shut.
"When it all started, roughly about January last year, there was a lot of uncertainty.
"Everyone said 'We'll be alright, it's never shut, they'll find someone [to buy it].
"And then the announcement was made… It was just, 'what do I do?', because all the industry down the river is shut.
"You just look at the jobs round here and what lifestyle you've got, and you think, there's nothing round here that can support what I'm used to, or what I want."
"I'd just taken on a bigger mortgage four years beforehand… it's just devastating really."
His 19-year-old daughter Kayla says she tried to keep up the family's spirits.
"Although they didn't say it to my mum, they'd say it to me - they were scared of what was going to happen, because of all the uncertainty there.
"Some nights I'd come home with bars of chocolate just to make them feel happy, and let them know I was there for them."
'Drive you crazy'
After claiming jobseekers allowance for a few months, Mr Pullen took a job at an oil refinery in Scotland, and considered relocating his family to the area.
He has since got a job on an oil platform in the North Sea, joining dozens of former Coryton colleagues.
He says although he will be away from home, his new role offshore will open up more opportunities and enable him to support his wife and children.
"It means being away from my family, but we got used to that when I was in Scotland."
"I could have gone and got a different job with less money, and we would have been able to survive. We wouldn't have been able to live… I want more than that for my family".
'Strong family'
For some of those who lost their jobs, even greater sacrifices have had to be made.
Paul Norcott - who was a team leader at Coryton, where he had worked for twenty-three years - struggled to find work after being made redundant.
He has made the decision to go and work in Saudi Arabia, where he trains up young people in how to become refinery operators.
But it has meant leaving his wife and four sons, aged between five and fourteen, behind - for up to four months at a time.
"There's not an oil refinery on every street corner, so you have to open up your searches," he said. "The oil industry is worldwide.
"If you were to dwell on the situation too much, it could drive you to tears and drive you crazy.
"It's about keeping focussed, keeping yourself driven, and trying to make the most of it."
His wife Natasha, who balances looking after their children and going to work, says it's the biggest challenge the family has ever faced.
"We treat time in three month or four month sections… we're constantly on countdown."
"Fortunately for us, we're a strong family unit and we can manage something like this. But a period of time that you know has an end is very different to dealing with something that's ongoing.
"He's got to find something back here, so we can all be together again".
BBC Essex will be running a number of special reports on life after Coryton during the next three days.