Mel Hughes plays 1,000th game for Essex club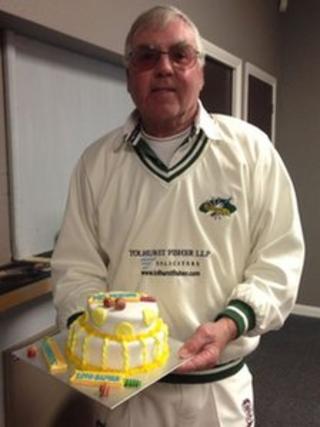 A 65-year-old Essex cricketer is celebrating his 1,000th appearance for the same club.
Mel Hughes reached the landmark appearance for West Mersea Cricket Club in Sunday's second XI defeat by Great Braxted and Tiptree.
"I remember my first game very well," he told BBC Essex
"I remember thinking the side had quite a lot of old people in their 30s. Bearing in mind I'm quite a bit older than that now it seems quite ironic."
Wicketkeeper Hughes has racked up a host of club records during his 35-year spell at the Glebe, including highest run scorer with 14,545, highest number of catches (527) and most stumpings (116).
England internationals
"I haven't got too many more records to aim for," said Mr Hughes.
"I'll stop playing if I stop enjoying the game and if I'm an embarrassment and not worth a place in any of our sides."
Mr Hughes has also encountered England internationals during his career, including the current captain Alastair Cook.
"I came across a 12-year-old playing for Maldon. I'm not sure if anybody has heard of him - I think his name was Alastair Cook," he joked.
"He definitely got 50 against us, but I can't remember if I was actually playing.
"Probably my best personal memory was hitting a four off a former England leg spinner Robin Hobbs. He was probably nearly as old as I am now but I regarded that as an achievement."