Colchester Hospital Skype interview radiographer suspended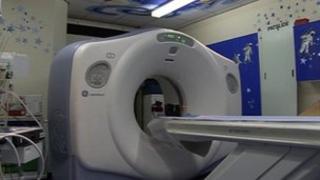 A senior radiographer given a job after an internet interview had the skills of a first-year student, a panel was told.
When Manik Sharma joined Colchester Hospital in 2012 staff were excited at his apparent "extensive" knowledge.
But after starting work, colleagues questioned whether he was "actually qualified", a Health and Care Professions Council heard.
Mr Sharma, who had denied charges of incompetence, has been suspended from practising for one year.
The Indian national was interviewed in his home country by Colchester Hospital University NHS Foundation Trust.
The hearing was told Mr Sharma had given the hospital trust a "very detailed" career history, which included six years' experience as a radiation therapy technologist.
He was taken on as a level six radiographer, a post with a salary of between £25,000 and £34,000.
Mr Sharma later claimed he thought the interview was for a lower level five radiographer position when he was interviewed over Skype.
'Serious risk'
However, the panel said he had failed to meet the level of competence required of a newly qualified radiographer.
It heard he lacked "basic knowledge and skills" and that it seemed to colleagues he was "repeating information which he had read up, for example, on the internet".
"They said that it was almost as if he was attempting to baffle them with advanced jargon and to make them think that their clinical practice was dated or old-fashioned," the panel's report said.
The panel said there was no evidence Mr Sharma's references were checked and voiced concern at the recruitment process saying it "may not have been sufficiently robust".
The hearing was told Mr Sharma, who was dismissed two months after starting work, "was considered to be working well below the level of a band 5 radiographer and possibly as low as the level of a first year student".
In ordering his suspension, the panel said Mr Sharma "would pose a serious risk to patients" if allowed to continue working without restrictions.
Colchester Hospital University NHS Foundation Trust said Mr Sharma had been dismissed during his probationary period on 12 July, on the grounds of capability.
"Our lead for radiotherapy took the decision to report him to the Health and Care Professions Council in order to protect the public and in the best interests of patient safety," a spokesman said.