Lawford Kings Arms pub owner 'devastated' by crash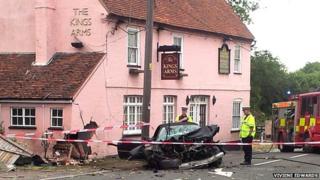 An Essex pub owner who was woken by a car crashing into her tavern said the damage has left her "devastated".
A black BMW convertible hit the Kings Arms at Lawford, near Colchester, at about 05:00 BST on Wednesday, creating a large hole in the corner of the pub.
Yvonne Phillips said she was "heartbroken" after seeing the damage, as she is looking to turn the Grade II listed pub into her permanent home.
Essex Police said the driver was seriously injured.
He had to be freed from his vehicle before being taken to Ipswich Hospital.
A 26-year-old man has been arrested on suspicion of drink driving. He was bailed until 15 August.
Mrs Phillips said she was woken after her husband Gary heard a "big thud" and she went downstairs to find her neighbour knocking on the door.
'Really angry'
"I was in shock and disbelief and I was devastated to see my home was being messed around with," said Mrs Phillips, who shut the 16th Century pub in July after running it for 10 years.
"My neighbour asked me for an extinguisher to put out the fire on the car, but by the time I got it the fire brigade had arrived.
"The whole front of the BMW had caved in. One of the men had to be cut out.
"I just felt heartbreak and anger. I was really angry - but it could have been worse, it could have been a person's life."
Mrs Phillips said the car drove into the former ladies' toilets of the pub and insurers would be assessing the damage later.
A police spokesman said another man who fled from the car was arrested at Manningtree soon afterwards.
The road was closed while emergency services worked at the scene.