Essex Police criticised over domestic violence deaths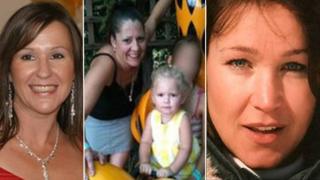 Inspectors say they have "significant concerns" about how domestic violence victims are supported by Essex Police.
HM Inspector of Constabulary (HMIC) has released its report following a number of domestic violence-related killings.
Maria Stubbings, Jeanette Goodwin and Christine Chambers were all murdered by their ex-partners, while Christine's daughter Shania was also killed.
HMIC said more work was needed to manage properly the risk to victims. Essex Police said it had improved.
The Independent Police Complaints Commission found failings in all three murder cases.
'Poor' communication
In their report, HMIC inspectors said the way officers dealt with domestic violence was "fragmented" and of "significant concern".
HMIC said better support should be given to victims of crime and added those involved in domestic violence investigations were "poor" at communicating with each other and outside bodies.
The report said: "Most staff were not able to demonstrate a broad understanding of the wider response to domestic abuse, and of how dealing with it effectively can enhance the confidence of victims and ultimately prevent homicides."
Zoe Billingham, from HM Inspector of Constabulary, said: "It's absolutely vital the police get the handling of these cases right for victims.
"The force has taken a number of important steps to address how domestic abuse cases are handled.
"However, there is still more work to do to ensure that victims get the best possible service from their force."
'Tragedy'
Chief Constable Stephen Kavanagh said the report recognised "the substantial steps" taken to arrest suspects as soon as possible and deal with calls quickly.
He added: "But I also recognise that it highlights several areas where we need to streamline our processes, improve communication and provide a better service to victims.
"This includes improving information sharing between other agencies by tackling the issue with a genuine partnership response and commitment."
He added: "I'm interested in listening to charities, local authorities, social services, prosecutors, academic experts, victim advocates and my own officers - who deal with this problem on the front-line.
"We receive 80 calls on domestic abuse a day and we are very conscious that we must get our response right every single time."
John Hayward-Cripps, from Victim Support, said: "The tragedy is that it has taken the deaths of four people to drive forward this change in approach.
"As the HMIC report recommends, Victim Support firmly believes that identifying those at the most risk of harm is critical to protecting victims, as is early identification to stop domestic abuse before it escalates.
"It is also only through joined-up working between police and other agencies that come into contact with those affected by abuse that victims do not fall through the cracks."