Essex County Council care girl 'happy' with rape accused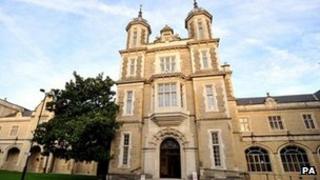 A girl allegedly raped and prostituted while in the care of Essex County Council seemed happy with one of the accused, a court has been told.
A jury at Snaresbrook Crown Court has heard how the girl, aged 17 and from Benfleet, was raped by two men.
Five men are on trial having denied 16 charges including child prostitution and rape.
A friend of the girl told the court that she seemed happy when she was with 25-year-old Naeem Ahmed, from Barking.
'Anything to please'
However, the friend also told the jury that the girl had told her Mr Ahmed asked her to do things with other men and was being given money for this.
The witness told the trial she saw the teenager with money she would not normally have.
Earlier in the trial the court was told the girl "loved" Mr Ahmed and "would do anything to please him".
The jury was told that, on one occasion, she was held down on a hotel bed by Mr Ahmed while two other men - 23-year-old Nabeel Ahmed from Romford and his brother, Jameel Ahmed, 24, from Dagenham, raped her.
The other two men on trial are Anas Mis Iqbal, 25, from East Ham, who is charged with several counts of rape, and Hassan Raza, 23, from Barking, who is charged with sexual touching.
The trial continues.