Manningtree High School fined over climbing wall fall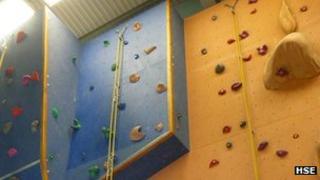 A school where a pupil fell from a climbing wall and broke his heel during a PE lesson has been fined.
Manningtree High School in Essex was fined £9,000 after admitting a health and safety breach at Colchester Magistrates' Court.
The Health and Safety Executive (HSE) said the boy, 14, fell more than 4m (13ft) to the ground after being told to let go of the wall by an instructor.
The school said it was "deeply sorry" for the accident.
The court also ordered the school to pay £1,641.90 in costs and a £15 victim surcharge for failing to adequately protect pupils against the risk of falls.
The accident happened last October when four students attempted their first ever advanced "lead climb", the HSE prosecutor said.
The HSE said as one pupil was on the wall, a fellow teenager had been asked to "belay" the rope for him at the bottom to provide support if he fell.
'Totally preventable'
After the climber grew tired the instructor told him to let go but the rope support failed, meaning he fell to the ground, it added.
HSE found that none of the four pupils were aware what lead climbing was nor the risks involved and none had been properly trained or prepared for it.
In addition, it said the school failed to have an "adequate safety management system" in place for lead climbing and the instructor was "not competent to teach or supervise lead climbing".
HSE inspector Glyn Davies said: "A teenage boy sustained a totally preventable injury that required an operation, saw him on crutches for more than 14 weeks, and from which he is still recovering."
Headteacher Deborah Hollister said: "We are deeply sorry that a pupil was injured whilst in our charge.
"We are completing an internal investigation and co-operating fully with the HSE to ensure that any improvements that need to be made are implemented before any climbing activities resume."