A12 Kelvedon bridge strike: Lorry driver 'found '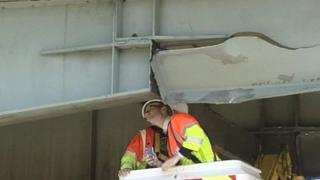 The driver of a lorry that struck a bridge on the A12 in Essex closing it in both directions for several hours has been found, police have said.
The crash happened at Kelvedon on Thursday when a low-loader carrying a crane hit the Ewell bridge and drove off, leaving debris on the carriageway.
A man, 53, from Witham, who police said was driving a low-loader, has been interviewed voluntarily.
A decision on whether to prosecute the driver will be made later.