Britvic to close Chelmsford factory and put hundreds out of work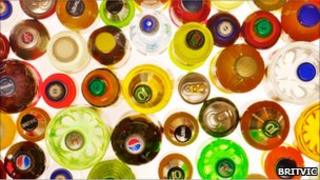 Britvic is to close its factory in Chelmsford, the city where the company was founded in the 19th Century, as part of plans to cut hundreds of jobs.
The closure of the Fruit Shoot and J20 fruit drinks plant will result in about 230 job losses.
The plans include the closure of Britvic's Pennine Spring water factory in Huddersfield with 40 job losses.
Britvic, the maker of Robinson's squash, is also shutting a warehouse in Belfast where 20 staff are employed.
The measures are part of the company's plans to merge its UK and Irish operations, which could mean a total of between 300 and 400 people losing their jobs.
The soft drinks firm announced cuts totalling £30m over three years as it reported a 50% surge in pre-tax profits, to £37.5m, for the 28 weeks to mid-April.
'Regret' job cuts
It said the cuts aimed to improve returns for shareholders and come ahead of a Competition Commission decision on its merger with Irn-Bru owner AG Barr, expected by July.
Last year Britvic moved its headquarters from Chelmsford to Hemel Hempstead in Hertfordshire and said remaining office staff would transfer to its new site, ending a 150-year association with the Essex city.
Britvic, which takes its name from its predecessor the British Vitamin Products Company, has started a consultation with staff, with the affected sites to close in the first quarter of next year.
The Chelmsford factory was built in 1954 and makes soft drinks in cans, glass and plastic bottles. Work will transfer from there to sites in other parts of the UK, Ireland and France.
Britvic also has major operations in east London, Norwich and Leeds.
The Huddersfield site and natural spring were acquired in 2004 from lemonade-maker Ben Shaw's. Water is bottled there under the Drench and Pennine Spring brands.
A spokeswoman said Britvic would focus on Ballygowan, its Irish water brand.
Chief executive Simon Litherland said: "We regret the potential loss of jobs caused by the change and are committed to supporting affected employees.
The Unite union's national officer for food and drink, Jennie Formby, said: "The threat to the jobs at the three sites is a very bitter blow for the workers and their families. We want to analyse the company's statement fully and consult with our members.
"It should be remembered that this is a very profitable company and could well afford to keep all these existing operations going.
"Unite will be doing all it can in the coming weeks to support our members through this difficult period."
Unite's regional officer in Essex, Dave Turnbull, said: "We are holding talks with management next week with the aim to strongly make the case to keep the Chelmsford site open and to safeguard the jobs of our members.
"I am confident that the execution of this strategy will build a more successful Britvic and lead to a much stronger financial performance."