WWI hero Herbert Columbine honoured with bronze statue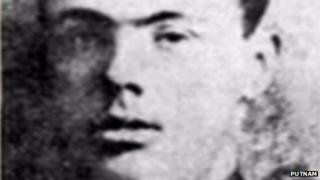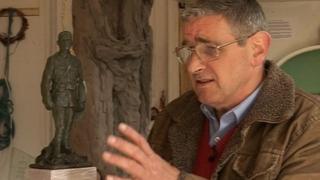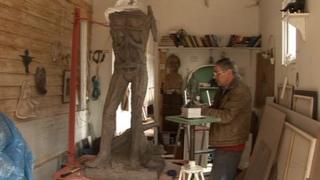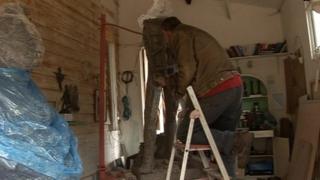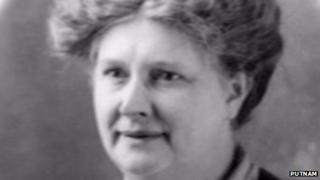 A forgotten hero posthumously awarded the Victoria Cross for his bravery in World War I is to be honoured with a statue in his Essex home town.
Pte Herbert Columbine, of 9 Squadron Machine Gun Corps, died in France holding his position against enemy fire, allowing his companions to escape.
A group from Walton-on-the-Naze is raising the £52,000 for the statue.
Artist John Doubleday has been commissioned to sculpt it.
The six fundraisers from the Royal British Legion in the town, hope the bronze will be ready for the 100th anniversary of the outbreak of WWI on 4 August 2014.
'Spirit survives'
Mike Turner said they had so far raised £26,000 towards the statue.
"We hope a statue that can be viewed by the community of Walton-on-the-Naze and visitors to the town will be a fitting tribute to Walton's WWI hero," he said.
Mr Doubleday, from Great Totham and famous for his sculptures of The Beatles in Liverpool and Charlie Chaplin in Leicester Square, London, said he was honoured to sculpt the 7ft (2m) bronze statue.
"I feel well-equipped to do it and I think it's a responsibility and actually a privilege," he said.
Mr Doubleday has made a preliminary model of how the sculpture will look, and is now making a clay model using about two tonnes of clay supported by a steel structure.
When that is finished, a wax mould will be made before molten bronze is poured into it.
"I've included all sorts of little things - his Vickers machine gun, bombed and rendered useless, but the man, the spirit of the man survives," said Mr Doubleday.
The project to raise a statue in memory of Herbert Columbine is also in recognition of his mother, Emma, who presented her late son's medals, including the VC, to the town of Walton in October 1921.
Pte Columbine was 24 when he died on 22 March 1918, eight months before the end of the war.
He took command of a machine gun, which he continuously fired from a trench in Hervilly Wood in France.
He repelled hundreds of heavily armed soldiers and gave others the chance to escape and kept on firing until he was killed by a bomb.
Mr Doubleday said: "I think the enormity of the sacrifice and the brutality of WWI shouldn't be allowed to just slip away from the consciousness of the population as a whole," he said.