Essex Police cuts pay for new starters by up to £2,000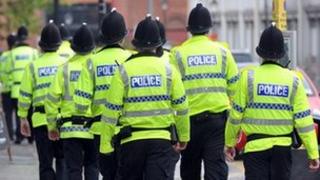 Starting salaries for new police officers in Essex are to be cut by up to £2,000.
The changes follow a government review which recommended pay should drop from £23,000 a year to £19-22,000.
Essex has decided trainees should be paid at the "upper end" of the scale, with recruits with no experience getting £21,000 and former specials and support officers getting £22,000.
The Police Federation said it was "not as bad as it could have been".
The Home Office introduced the changes after a review, carried out for the government by Tom Winsor, said £1bn could be cut from all police salaries.
Essex's Chief Constable Steve Kavanagh said: "Whilst acknowledging the difficult financial situation, I have made the decision to have a starting salary towards the upper end of this scale.
'Younger recruits'
"This is within my discretion and I believe it is important to send a strong message to new recruits on how much I value having committed, competent and enthusiastic individuals joining the force."
Essex recruits may also be eligible for a £2,000 living allowance that applies in the south east of England.
PC Mark Smith, chairman of the Police Federation for rank and file officers in Essex, said: "When starting salaries were cut from £23,000 we weren't happy because we didn't think you will get the best calibre of applicants as a result and you would mainly get younger recruits who didn't have mortgages and other financial commitments.
"Some flexibility was introduced and we're pleased Essex will pay up to £22,000 because it will widen the age range.
"We've had to accept there would be lower salaries, but this isn't as bad as it could have been."