Carol Cooper murder: Son Peter Dickson jailed for 18 years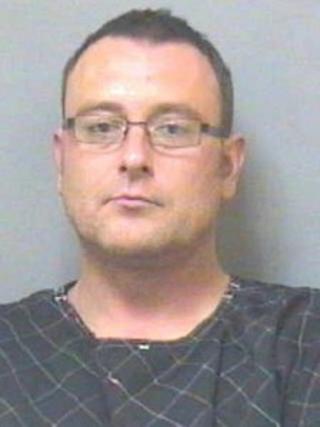 A carpet fitter has been jailed for a minimum of 18 years for murdering his mother after she threatened to write him out of her will.
Carol Cooper, 66, was found by police lying in bed with a pillow over her face in her flat in St Vincent Road, Clacton, in November.
Her son Peter Dickson, 37, who lived with her, was found kneeling by her body, Chelmsford Crown Court heard.
Judge Charles Gratwicke said it was a "brutal and vicious attack".
Dickson was convicted by jury after a 12-day trial.
He had already admitted manslaughter but denied murder claiming he had not intended to kill her.
'Empty void'
Passing sentence, the judge said: "She doted on you and provided for your every whim, putting you on a pedestal and your response to that love, affection and care was to smother her to death.
"Nobody sitting in this court can feel anything but anger and revulsion at what you did to that poor woman, taking life from the very person who gave you life and leaving the rest of your family with a sadness and an empty void that cannot be filled."
Dickson did not give evidence during the trial but the court heard from a psychiatrist that he may have a personality disorder.
He was registered as the carer of his mother, who lived off a disability allowance.
William Clegg QC, mitigating, said his client had no previous convictions for violence.
He added: "We accept that the victim was vulnerable because of her disability.
"But because of his own mental problems the defendant, to some extent, was also under a disability."
Mrs Cooper's sister Daphne Wilson said in a statement: "Our beloved Carol was so cruelly taken from us by her son.
"We have now found justice for her and she can finally rest in peace."
The trial heard that Dickson, the "favourite" of Mrs Cooper's three children, had taken over her finances.
He used them to pay for a premium Sky television package, online movies and his mobile.
'Planned to disinherit'
In the 11 months leading up to the victim's death, her bank account had gone from being in credit to £3,000 overdrawn.
She told her family she planned to confront him over his spending and wanted to disinherit him.
The court heard Dickson pretended she was still alive when relatives called and sent texts from her phone.
But her sister became suspicious and contacted police.
Senior investigating officer Det Ch Insp Anne Cameron said: "We are delighted with today's verdict.
"We would like to thank Carol's family who have given us so much assistance during the entire investigation and throughout the trial.
"Since Carol's death, her family and friends have been through an extremely difficult and trying time yet have acted with great dignity throughout."