Southend Airport: Payment on proven compensation claims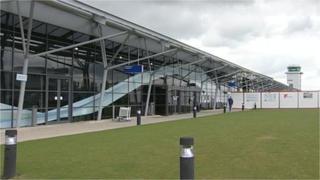 An airport has pledged to honour resident's compensation claims if it is proven their properties in Essex have lost value because of its activities.
More than 1,000 people have issued claims against Southend International Airport where flights have increased.
Passenger numbers are climbing and have reached 700,000 in the past year bringing many extra flights.
Managing director Alastair Welch said the airport would meet its obligations if claims for compensation are upheld.
Jon Fuller, of Stop Airport Expansion and Noise, said: "Estate agents are giving us very strong indications local residents must expect many thousands of pounds less than they expect when they sell their homes.
"House prices in this area are generally fairly buoyant but as soon as they are close to the airport or on the flight path prices are suppressed."
'Holidays instead'
Resident Freddy Hubbard is making a claim because he wants to sell up to emigrate to Australia where his daughter lives.
"We have to raise a certain amount of money so we're selling the house," he said.
"But because of the airport, prices are falling and now it depends on what we can get.
"If we cannot get what we need we'll have to take holidays in Australia instead."
Mr Welch said: "People who believe they are entitled to compensation can make a claim up to a year after the new terminal is finished.
"Each claim will be subjected to a detailed and thorough assessment.
"But we will certainly meet our responsibilities if those claims are proven."