Essex mental health nurse accused of sex with patient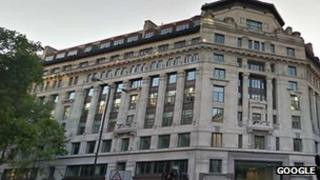 A mental health nurse has been accused of having sex with a patient after threatening to release "confidential information" to her employer.
Kenneth Ngobele worked for South Essex Partnership Trust (SEPT) when the alleged offences happened in 2010.
A disciplinary panel at the Nursing and Midwifery Council (NMC) will hear eight allegations made against Mr Ngobele.
Mr Ngobele, who worked on the mental health assessment unit in Basildon, is yet to comment on the allegations.
It is alleged he asked the patient about her sexual history, what kind of men she liked and "whether she had been out with a Nigerian guy".
He is accused of grabbing her hand, persuading her to go into a laundry room, getting her mobile telephone number and threatening to "release confidential information" about her to her employer.
'Dismissed'
According to the NMC's list of charges, Mr Ngobele met the patient at a cafe in Romford and then went to a La Tasca restaurant with her.
It is alleged the pair later had sex.
The tribunal hearing into the case is expected to be heard in London from 28 to 30 May.
A spokesman for SEPT said: "Mr Ngobele had been previously employed by SEPT and following the disclosure of the allegations a full internal investigation was conducted by the trust and recruitment processes were followed to the full.
"Mr Ngobele was summarily dismissed based on the findings of the investigation and this was subsequently reported to the NMC by the trust."