Concerns over Basildon Hospital weekend death rate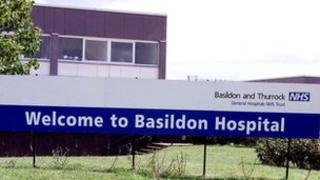 Concerns have been raised about the number of Basildon University Hospital patients who have died at weekends.
The hospital was inspected last week as part of the Keogh Review into potential failings at 14 hospital trusts.
The review team's draft report, written before the inspectors' visit, has now been published.
It said deaths among non-elective admissions at weekends had contributed to the hospital's death rate being 11% higher than the average NHS hospital.
The report says: "This is due to the number of observed deaths in non-elective admissions being higher than expected, with mortality significantly higher than expected in general medicine and geriatric medicine.
'Turnaround programme'
"Within non-elective admissions, general medicine, palliative medicine, cardiology, and thoracic medicine have the highest number of observed deaths that are higher than expected."
A full report will be released in the summer.
Basildon Hospital had 3,186 deaths between April 2010 and April 2012. In the two years to October 2012, there were 544 more deaths than expected.
The hospital said it had already started to address issues and had introduced a "trust-wide quality and safety turnaround programme".
The review, which is being conducted by NHS medical director Professor Sir Bruce Keogh, was unveiled in February and follows the inquiry into hundreds of deaths at Mid Staffordshire NHS Trust.