Wormingford amateur archaeologists find Stone Age axe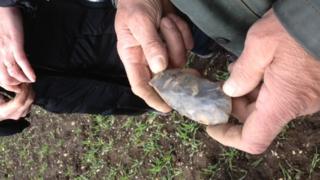 Amateur archaeologists are celebrating a "spectacular" find made while out walking in a village in Essex.
Members of Wormingford Landmarks project were surveying a field when a volunteer discovered a Stone Age flint axe head lying on top of the soil.
Project leader Amanda Findley said: "For our project it's a brilliant find. We were not expecting to find anything so spectacular."
The axe was found by Nat Jackson on 27 April, the second day of the survey.
The year-long project run by Wormingford Community Education Centre was given a £10,000 grant to explore a Neolithic-Bronze Age site close to the River Stour.
Howard Brooks, from Colchester Archaeological Trust, said: "Finding it while doing a survey is very unusual, that's the rarity value."
He explained the flint head was found to one side of some burial monuments. The axes were used by farmers to chop down trees and create more farmland.
"But it's a bit mysterious, we are not sure why we find the axes. It could be a ritual burial as an offering to the gods."