Basildon roundabout job bid man gets interview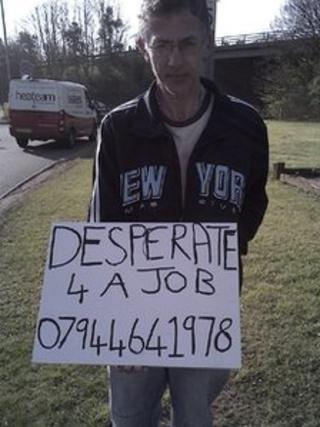 A man who spent hours on a roundabout advertising his desperation for a job has landed an interview.
Father-of-two Matt Adkins, 45, from Wickford, Essex, has been without steady work for eight years despite saying he was prepared to do anything.
As a last resort Mr Adkins stood on an A127 roundabout at Basildon with a sign saying he needed work.
He was passed a business card by a businessman and has now secured an interview.
The man who gave him the card was Raj Ramoutar, operations director at Basildon-based Ironmongery Direct.
Mr Ramoutar said: "I was really impressed that somebody who is looking for work was taking some initiative and I wanted to give somebody the chance to impress and shine.
"I was hoping he would give me a call."
Mr Adkins said: "I phoned him when I left the roundabout and popped a CV down to him.
"Sometimes the unconventional works.
"They phoned me back with an interview on Monday. So fingers crossed."