Protest at Ford's plans for Dagenham and Southampton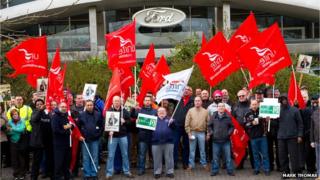 A protest is taking place outside Ford's Essex headquarters over plans to close part of one of its sites.
As well as closing the stamping and tooling plant in Dagenham, Ford plans to end production in Southampton.
Unite said more than 650 of its members at Dagenham would vote on strike action in coming weeks.
A Ford spokesman said it was "disappointed" its voluntary redundancy proposals had been rejected but would continue "to engage in discussions".
The protest is taking place outside Ford's headquarters near Brentwood.
'Support employees'
Unite said more than 100 toolmakers have not been found suitable jobs, while workers who are being redeployed are being given little information about what work they will be doing once they are transferred.
National officer Roger Maddison said: "Ford betrayed its workers when it announced the closure of its plants and now the company is rubbing salt into the loyal workers' wounds by treating them with contempt."
The ballot result is due on 1 May.
A Ford spokesman said: "We are disappointed that the company's voluntary redundancy and redeployment proposals for employees affected by the closure of Dagenham stamping and tooling operations have been rejected and that the union has said that it plans to ballot its membership on possible industrial action.
"We continue, however, to engage in discussions with our workforce at Dagenham stamping and tool operations, and we are continuing to work with a variety of stakeholders to provide information and support to our employees."