Colchester's landmark water tower could open to public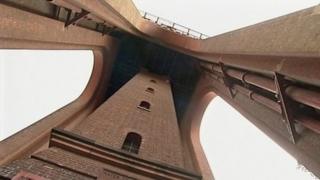 One of the last and largest Victorian water towers not converted to flats or a house could be opened to the public.
The tower in Colchester, Essex, is called Jumbo and has had several owners since it was decommissioned in the 1980s and sold off by Anglian Water.
A plan to convert the tower at Balkerne Gate into a penthouse was granted on appeal in 2001 but never carried out.
Surveys revealed it was unsuitable for development and the Balkerne Tower Trust wants to begin public tours.
The trust was set up to save the Grade l listed tower as a building of historical significance,
Two further planning applications, including a change of use request, were rejected by Colchester Borough Council in September 2011.
Repairs needed
The failed proposals were for two penthouses, two flats, a restaurant and office space spread over 10 floors.
The applications were opposed by the Victorian Society, the Council for British Archaeology, The Ancient Monuments Society, SAVE Britain's Heritage, The Conservation Officer, the Highways Agency, many residents of Balkerne Gardens as well as the Balkerne Tower Trust.
An information board about Jumbo has been set up near the tower.
Permission for public tours was granted at the successful penthouse development appeal in 2001.
The Balkerne Tower Trust said it was set up to preserve for the benefit of the people of Colchester the historical, architectural and constructional heritage associated with the town's water supply.
Central to this was opening Jumbo up to the public but first repairs have to be carried out to deterioration caused by nearly three decades of neglect, the trust said.