Dr Who's Matt Smith gets Bow Tie Society invitation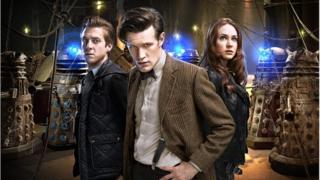 Famous champions of the humble bow tie have been invited to join a society founded by a retired detective.
The Bow Tie Society was founded by Bob Miller and Howard Bills to "celebrate" the distinctive item of neckwear.
Mr Miller, one of the detectives who got Essex serial killer Jeremy Bamber convicted, said members had to know how to tie a bow.
Invitations have been sent to Gareth Malone, of the Military Wives Choir, and actor Matt Smith, the 11th Dr Who.
Bargain Hunt's Tim Wonnacott has also been invited.
Mr Miller said the approach to Mr Smith had been made through the National Youth Theatre, of which Mr Miller is a member and Mr Smith the patron.
"I've approached Mr Malone and Mr Smith because we did not want to be an old man's outfit," he said.
'Guy with the bow tie'
"The bow tie is an item of apparel that should be celebrated," said Mr Miller, who has worn bow ties since he was just 11 years old.
"We think it is very British."
He said the club was for "like minded men across Britain".
"As a detective, I used to wear bow ties and braces, which were items of clothing not many detectives wore in those days."
He said he had to be careful as a police officer because if anybody made a complaint against him he was easily identifiable as "the guy with the bow tie".
"There was no hiding place for me and a couple of other detectives," he said.
Matt Smith's agent said he was currently "prepping" for the next Dr Who so was unable to comment on the invitation.