Colchester Moot Hall: Lottery grant to restore organ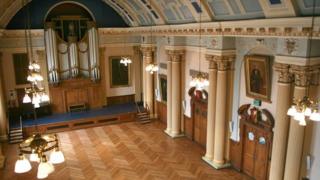 An Edwardian pipe organ that fails "to make the noise you want" is to be restored in Essex thanks to a £416,000 grant from the Heritage Lottery Fund.
The organ, built for Colchester's Moot Hall, was first played publicly at the hall's official opening in May 1902.
A century later a campaign was launched to halt the instrument's deterioration.
Councillor Nigel Chapman said he was "delighted this important part of Colchester's heritage is set to be conserved".
He added: "You can get a sound out of it, but not the noise you want.
"Organists won't now play it because it just reflects badly on their skill. Some work was done on it about 50 years ago - but the leather and wood it's made from have just deteriorated.
"It's a significant part of the character of the Moot Hall and I am extremely excited at the prospect of hearing it played again."
'Fine' instrument
The organ was built specifically for the Baroque inspired town hall by Norfolk-based organ makers Norman and Beard, who also created the Norwich Cathedral Organ.
Robyn Llewellyn, head of Heritage Lottery Fund East of England, said: "This fine historic instrument is an integral part of the hall and its deterioration has denied concert-goers the chance to hear it for many years.
"As a unique example of a pipe organ, our funding will not only fund restoration but help local people and schools understand how it was built and the traditional craftsmanship involved.
"Soon this will all be put right and the organ can be enjoyed by both music and history lovers alike."
Restoration of the organ is expected to take up to four years.