Essex Chief Constable condemns burglar caution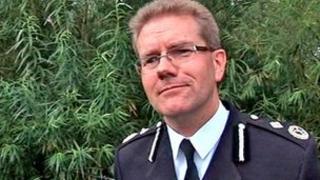 A chief constable has criticised his own officers after learning a burglar was given a caution.
It follows a break-in at Monique Carson's home near Chelmsford, Essex, in which jewellery and a games console were taken.
Chief Constable Jim Barker-McCardle said he was "staggered" a caution had been offered.
He has referred three of his officers to the professional standards department.
Mr Barker-McCardle first became aware of the case when Ms Carson recently spoke to the Essex Chronicle about the break-in, which happened in November.
He wrote to the chairman of the Essex branch of the Magistrates' Association, saying how "startled" and "most alarmed" he was, and also had case files sent to the Crown Prosecution Service.
'Not acceptable'
Speaking to BBC Essex, Mr Barker-McCardle said there were rare occasions - such as when the burglar is a family member and prosecutions are not sought - where a caution might be given.
"But absolutely not in this case," he said.
"I was extremely concerned at the police decision. Professionally I was staggered.
"Every bone in my body, every cell in my body, said this looked like a very bad decision by Essex Police. I remain of that view."
Ms Carson said: "I am very pleased he shares our point of view and that he wants to make everybody aware that it is not acceptable for somebody to get away with a caution and that it is a very serious offence.
"I do think the blurring of the lines needs to be looked at," said Nigel Le Gresley, chairman of the Essex branch of the Magistrates' Association.