Richard III would want Catholic funeral, says Dr John Ashdown-Hill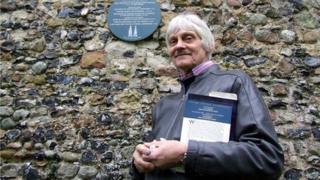 The academic whose research led to the discovery of Richard III's remains said he should be given a Roman Catholic rather than Anglican funeral.
Earlier this year, skeletal remains found beneath a car park in Leicester were confirmed as King Richard's.
But since the find, a disagreement has surfaced about whether he should be buried in Leicester or York.
Dr John Ashdown-Hill, from Colchester, has now entered the fray saying King Richard would want a Catholic burial.
Richard was killed in battle in 1485 during the civil war known as the Wars of the Roses.
The family which defeated him, the Tudors, tried to make sure he was remembered as a villain, capable of killing family and friends.
But according to Dr Ashdown-Hill, Richard was "a very religious man".
"There is a lot of evidence that Richard III had a very serious personal faith," he said, though added it was impossible to know what Richard III would have made of plans for burial at a non-Catholic site at York or Leicester.
"If Richard III had not have died, maybe the Anglican church would never have existed," he said.
He said the reason Leicester had been chosen as the burial site was because of the terms of the exhumation, which, depending on the identity of the remains, specified the bones must be buried in the "nearest consecrated site".
In Richard III's case, the nearest site is Leicester Cathedral.
More than 7,500 people have signed an online petition in favour of keeping the king's remains in Leicester, but nearly 25,000 have signed up to support re-interring his remains in York Minster.
York Outer MP Julian Sturdy said: "The call is strong from the great county of Yorkshire that Richard III did want to be buried where he was loved. That was the key thing."
Leicester Cathedral acting dean Barry Naylor: "It is normal practice that if a body is exhumed it is re-interred in the nearest consecrated grounds.
"I can assure people there will be the finest of liturgy and we will be very happy to incorporate elements from Catholic tradition and perhaps Latin plain chant in the services that take place.
"Leicester Cathedral is doing its utmost to ensure that Richard is re-interred with honour and respect here at the heart of our city of Leicester."
He added that the cathedral had prepared a brief for its architects and more on the plans for Richard III's tomb was expected in July.