Eystna Blunnie murder: Tony McLernon jailed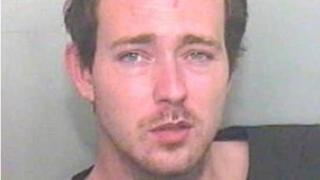 An "evil" man has been jailed for life for the murder of his heavily pregnant former fiancee and causing the death of their unborn baby.
Tony McLernon "lured" 20-year-old Eystna Blunnie to her death in Harlow, Essex, on 27 June last year.
He kicked and stamped on her, leaving her for dead in the middle of the road, Chelmsford Crown Court heard.
McLernon, 24, of North Grove, Harlow, must serve at least 27 years before being eligible for parole.
On Tuesday, a jury found him guilty of murder and child destruction.
At the time of her death Miss Blunnie, a catering student and barmaid, was expected to give birth within days.
She died in hospital. Doctors were unable to save the baby.
Miss Blunnie's family said they were "pleased the jury saw through his lies and saw him as the evil person he truly was".
Before sentencing McLernon, Mr Justice Fulford said: "This is in essence a double murder as the child was so close to being born."
He said McLernon had shown no signs of remorse.
'Abusive history'
"This defendant had a propensity to be violent towards others," said Mr Justice Fulford, "particularly young women who he was in a sexual relationship with.
"His abusive history vividly demonstrates the disturbing way McLernon controls, dominates, degrades, bullies and then attacks women."
The trial heard how he lured Miss Blunnie to meet him in the early hours of 27 June by sending her a text message saying: "I've got a surprise for you."
McLernon had concocted a story that two men had been responsible for killing Miss Blunnie and he was unable to do anything to help her.
The jury took two hours to find him guilty.
In the weeks leading up to the killing he had told friends and family that Miss Blunnie was trying to ruin his new relationship, telling one he expected to go to prison for what he planned to do.
Giving evidence, McLernon told the court he had been addicted to cheap supermarket alcohol, particularly strong cider mixed with Lambrini sparkling wine.