Southend council meeting 'disrupted' by topless protest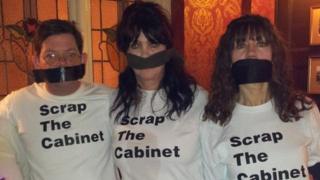 A man staged a topless protest at a council meeting after his campaign group was told to remove its 'Scrap the Cabinet' T-shirts.
Three activists were told they would be barred from Southend-on-Sea Borough Council's full council meeting unless they removed the garments.
The council said previous meetings were disrupted by campaigners unveiling T-shirts with "derogatory" slogans.
The group said their treatment was "humiliating" and "unnecessary".
One of the protesters, Sheena Walker, said the group Saxon King In Priory Park (SKIPP) was launched in 2008 to campaign for a Saxon museum in the town, but has since taken on other issues, such as budget-cut campaigning.
'Legitimate view'
As well as the T-shirts, Ms Walker said the group wore tape over their mouths to "protest against the way the services are being so savagely cut, while the top paid executives are not taking a cut".
"The security said 'you can't wear those' and took them from us," Ms Walker said with regards to the T-shirts.
"We were angry. The T-shirts say 'Scrap the Cabinet' - it's not obscene or violent."
Fellow protester Mark Sharp did not have other clothes with him so stood in the public gallery topless.
Conservative councillor Mark Flewitt, who was at the meeting, said the group had carried out silent protests in the past and had always been "dignified".
"To make them take the T-shirts off is ridiculous beyond belief," he said.
He said the slogan on the T-shirts was a "legitimate view".
'Stripped to waist'
Council facilities manager, Gary Cullen, said banners, placards and leaflets were banned at the Civic Centre 18 months ago for "safety reasons".
"At last week's council meeting, we advised the protestors that they would not be allowed into public gallery wearing their slogan T-shirts, so they were given a choice of either removing them, covering up the slogans in some way, or not gaining access to the meeting," he said.
"They chose the former.
"However, one of them then stripped to the waist which led to complaints from another member of the public nearby."