Mersea Island ancient bones to be examined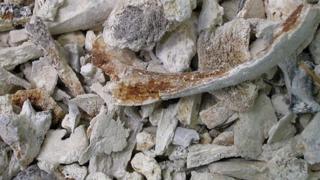 Archaeologists are carrying out tests on human remains found on an Essex burial mound more than 100 years ago.
The bones, discovered on Mersea Island in 1912, were in a green glass urn, stored in a box that was inside a brick chamber.
Mersea Island Museum said the nature of the burial suggested the remains were of an "important person".
Results of tests on the remains, thought to date more than 2,000 years, are expected within weeks.
Museum chairman Joanne Godfrey said: "We'll never know who exactly this person is, but they were important as they wouldn't have been buried in that situation otherwise.
'Silly legends'
"Presumably it's just the one person but who knows? All sorts of things could crop up and that's why it's so exciting.
"There are lots of silly legends about the remains so we thought we'd have them analysed and find out more."
The £1,000 study was paid for via donations from visitors to the museum and burial plot.
The Association for Roman Archaeology also donated £1,250 for the project.
Mrs Godfrey said the mound was thought to date back to the Roman or Romano-British eras.
The remains were on temporary display at the museum last summer.