Essex Police Facebook page investigation after racist comments published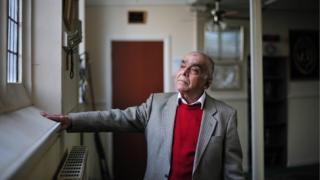 Essex Police is reviewing procedures after its own Facebook page was found carrying a string of racist comments.
The constabulary placed an appeal about smashed windows at Southend Mosque on its Facebook page.
But within hours more than 20 racist comments had been published and left for days without being removed.
A spokeswoman for Essex Police said it was investigating the matter, including whether the force, in running the page, had breached the law.
She said the comments were "completely unacceptable" and said the police had not encountered such problems before.
The details of those who posted racist comments had been passed to officers for further investigation, she said.
'Get their act together'
Mohammad Qidwai, one of the founding trustees at the mosque, read through the comments when he was shown them by BBC News.
"The more serious ones should be taken up by the police and pursued," he said, describing those responsible as "ignorant people" with "nothing better to do".
The mosque - one of three in Southend - has been repeatedly damaged by vandals over the years, said Mr Qidwai.
In response to damage, the mosque has had to install security measures such as a boundary wall and grills over the windows.
"We have to take it (the vandalism) as a part of modern day life," he said. "It is not just us, churches have also been vandalised.
"But there are many, many decent honest people who appreciate the contribution of the new Britons over the past 60 years."
Jabeer Butt, of the the Race Equality Foundation, said: "This is something that could have been fairly simply addressed. People need to get their act together."
He says the police should have been moderating comments before allowing them to be published.
The Equality and Human Rights Commission declined to comment saying it was "a matter for the police".