Kyle Ogilvie from Harwich jailed over knife-in-head attack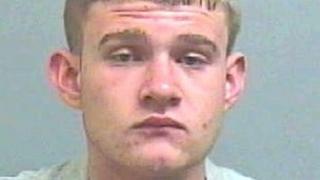 A 23-year-old who stuck a knife into the head of a man outside a house party in Essex has been jailed for 18 years.
Kyle Ogilvie, of Harwich attacked James Johnson, 20, in Mill Lane, in the town, early on 6 May last year but denied attempted murder.
Chelmsford Crown Court heard Mr Johnson suffered serious injuries in the stabbing. The handle broke off the knife and he was taken to hospital.
He was treated at the Royal London Hospital and is now recovering.
Ogilvie, who was found guilty in December, told the court he had drunk so much alcohol he had no memory of the fight or the attack.
DCI Simon Parkes, said: "There can be no excuse for the actions of Kyle Ogilvie. He is clearly a dangerous person who showed a complete disregard for the life of his victim."
He added: "Just carrying a weapon is idiotic. Taking one to a fight is pure madness. The drink and the knife made a toxic combination."