Ex-policeman's Essex home burgled during his funeral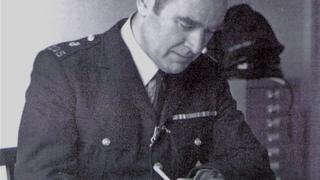 The son of a former Essex police constable whose home was burgled on the day of his funeral has described the crime as "unbelievable".
Norman Higgon, 90, was a police officer from 1950 until 1977. He died of cancer on 2 January.
But while his funeral was taking place, burglars were stealing from his home in Malyon Court Close in Thundersley.
His son Peter Higgon described those responsible as "low lifes" without "morals".
'Appalling crime'
"He had lived there for 40 years and had never been burgled. Then on the day of his funeral this happens," said Mr Higgon.
"It is unbelievable really that people could do that while people are grieving."
A 42in Sony television, a gold pocket watch and a briefcase containing various documents, were stolen from the house.
PC Layla Barker said: "This was an appalling crime at the home of a former officer and was discovered on the morning of his funeral. In addition to dealing with the sad death of their father Mr Higgon's sons found they then had a burglary to deal with.
"We want to hear from anyone who saw suspicious activity in Malyon Court Close, Thundersley, especially from anyone who saw a 42in television being carried down the road or to a vehicle."
The burglary happened on 18 January.