Fishwives Choir: Fishermen's Mission fundraiser to release first songs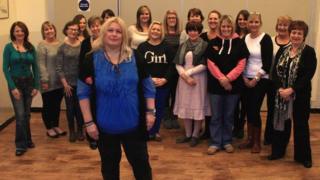 The widow, of an Essex fisherman who died at sea, is to release the first songs by the choir she founded.
The 70-woman strong Fishwives Choir is to launch a single in April featuring a medley of sea songs and hymns.
Jane Dolby's husband Colin was 47 when he went missing in 2008 and it took eight months for his body to be found.
Inspired by the Military Wives' success she will fundraise for the Fishermen's Mission who helped in her darkest hour.
Highlight of the single will be the hymn For Those in Peril on the Sea but listeners will also hear a special rendition of When the Boat Comes In, the theme from the popular television series.
The medley has been arranged by John Puddick, a 58-year-old music teacher, who lives in Shoeburyness.
Strong bond
Mrs Dolby, from Leigh-on-Sea, said the Fishermen's Mission, Lowestoft in Suffolk, was a great help after her husband was lost. His body was found washed up near Southend eight months later.
It is also hoped this will coincide with a new law aimed at liberalising the circumstances in which there can be a presumption of death to help families of missing people.
Because Mr Dolby's body was missing his wife could not get the death certificate needed to access his bank account or to claim benefits.
She was left without an income and the Fishermen's Mission gave her and her four children emergency financial support following her loss.
The 70-strong choir put together with the help of a social networking site has members from across the UK, from the Scottish Highlands to the Isle of Wight.
The huge distance has made it difficult to organise rehearsals, but Mrs Dolby said the choir's spirit has been cemented by its emotional connection.
New law hope
She said: "We've never met before but we're all connected to men who risked their lives at sea.
"Lots of people in the choir have lost men to the sea as well, so there's a very strong bond between us."
Mrs Dolby has also been involved in the campaign to change the law which she says leaves women in her position destitute.
Currently a presumption of death case takes seven years to get through a coroners' court.
While her husband's body was still missing credit card companies and banks pursued Mrs Dolby for payments until the media stepped in.
She has since received apologies but the accounts were still frozen until she got the death certificate.
The British parliament is working on a law to allow a declaration of death before a court to allow a spouse to access the assets of their missing partner.
This is based on a Scottish law of 1977 which set up a registry of people presumed dead.
Only one person has reappeared after such a declaration since the Scottish law was introduced.
More on this story on Inside Out BBC1 East 19:30 GMT on Monday.