Colchester Hospital 'failed' man who choked to death on pill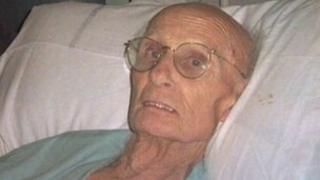 A hospital has said it failed in its "duty of care" after an 81-year-old man died when he was mistakenly fed a pill.
Norman Betchley, who had a nil by mouth sign above his bed, choked and died after taking the pill in 2009.
Colchester Hospital said it has since taken "extensive measures" to minimise the risk of a tragedy happening again.
At an inquest into Mr Betchley's death, where a narrative verdict was recorded, the coroner praised the hospital for improving its nil by mouth signs.
The new signs have a picture of a plate of food with a bright red cross over it.
"Nil by mouth" and "I must not eat and drink" are written on the signs.
'Extremely ill'
Tina Harrington, assistant deputy coroner for Essex and Thurrock, said: "It's clear to everyone what that sign means, it's brighter and harder to miss."
Mr Betchley was admitted to hospital with breathing problems and was being fed by a tube into his stomach.
He died within a few seconds of being given the tablet, the inquest heard.
A spokesperson for Colchester Hospital said: "Mr Betchley was already extremely ill before he was given the pill on which he choked and could have died at any time because of his underlying condition.
"However, we fully accept that we failed in our duty of care to him and apologise unreservedly.
"The nurse involved in this case, who was not our employee, had not followed Nursing and Midwifery Council or our own guidance relating to the administration of medicines and was suspended immediately."
The hospital has paid compensation to Mr Betchley's family.