A12 in Essex needs improvements, says AA and lorry group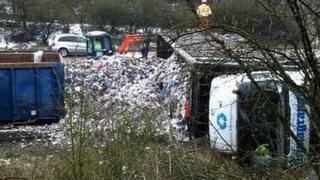 The Essex-stretch of the A12 is no longer 'fit for purpose', hauliers and a motoring organisation claim.
The road was closed for several hours following a serious crash on Wednesday in which a lorry shed its 20-ton load of rubbish onto the carriageway.
The accident at Galleywood near Chelmsford has led to fresh demands for improvements, such as a hard shoulder along its full length.
The Highways Agency said the road met current design standards.
'Regionally important'
But John Howells, from the Road Haulage Association, said action was needed to improve the route.
The accident on Wednesday happened when the lorry struck an empty broken down car.
Although the car driver had pulled over, there was no hard shoulder and part of the vehicle was still in the carriageway.
The lorry driver was taken to hospital with minor injuries but later released.
Some parts of the A12 have a hard shoulder, some do not.
Mr Howells said either a full hard shoulder was needed or regular emergency lay-bys for drivers to pull into.
"With the increase in traffic, both commercial and commuter, a lot of these roads need major infrastructure works," he said.
Paul Watters, from the AA, said: "It is a compromise road and it has not got modern design standards. It is a regionally important road."
Adam Pipe, casualty reduction manager at Essex Police, said the Highways Agency had invested significantly in the road and it was safer as a result.
"The drivers themselves have a significant part they can play in making the A12 safer," he said.
The Highways Agency said: "According to the current design standards, no hard shoulder has to be provided on a dual carriageway, and the provision of any such hard shoulder would depart from the standards."