Roy Griffiths pulls caravan on fire away from Colchester home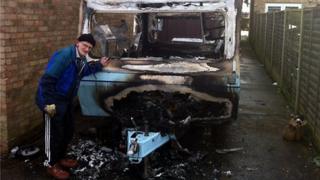 An elderly Essex man has told how he found the strength to haul his blazing caravan away from his home to stop the fire from spreading.
Roy Griffiths has arthritis, a damaged back and uses a chair lift to get up and down stairs at his Colchester home.
When a neighbour told the 68-year-old the Monza caravan was alight, he said he managed to pull the vehicle away.
"For some I reason I got some strength - that extra power you get sometimes," he said.
Police are treating the fire in Rockhampton Walk on Sunday night as arson and said had Mr Griffiths not pulled the vehicle away the fire could have spread and been "much worse".
Mr Griffiths said he tried to use a hosepipe at first but it was frozen.
"The caravan was burning and I thought if I can't get the caravan out the fence is going to light. I thought I had to get it out so I pulled it right out into the back road."
Lump in throat
Jon Dale, of The Camping and Caravanning Club, said: "It's incredible that anyone, let alone a gentleman in his condition, was able to pull a caravan on their own.
"It really demonstrates the passion people have for camping and caravanning in this country and we hope he continues to enjoy the freedom of the great outdoors."
Mr Griffiths had owned the one-and-a-half ton (1,500kg) caravan for about 17 years.
"I've spent so much doing it up. I was crying and I get a lump now in my throat when I think about it.
"I can't afford a new caravan. It is just a total loss. It wasn't insured," he said.
PC Martin Willsher said: "The victim was extremely fond of the caravan and a great deal of time had been spent refurbishing it and fitting it out.
"Large numbers of people were out in the area playing in the snow so we are hoping that somebody saw something."