Police officers' concern at East of England ambulance delays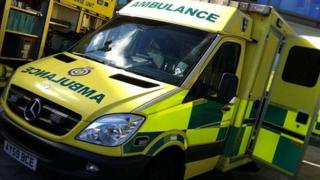 Police say they are repeatedly stepping in to take people to hospital when ambulances fail to arrive.
The Police Federation say delayed ambulances have become a concern in the East of England.
Officers claim delays or a lack of availability of ambulances have left them having to take people to hospital themselves.
The East of England Ambulance Service (EEAS) said it was working to improve its response times.
Although some members of the Essex Police Federation say officers were taking patients to hospital on a "daily basis", the scale of the problem across the east of England remains unclear.
The East of England Ambulance Service (EEAS) said incidents of police taking patients to hospital because of late or unavailable ambulances are not logged - though references were made on call logs if a call-out is cancelled.
The service declined to answer a Freedom of Information request asking how often police were stepping in for ambulances, saying it would have "to look through each individual call record" to find out.
However, a spokesman for the service, which covers Bedfordshire, Cambridgeshire, Essex, Hertfordshire, Norfolk and Suffolk and plans to save £50m over five years, said: "We recognise the need for back-up time improvements and have already revealed plans to address this by putting in place a raft of measures including 140 new frontline staff, better rotas and liaising with hospitals to reduce handover times.
"The official ambulance union Unison have been consulted throughout this process."
Neal Alston, chairman of Hertfordshire Police Federation, said officers had been taking patients to hospital a "couple of times a month" and found themselves waiting "inordinate lengths of time" on a daily basis.
Mr Alston said when officers were taking people to hospital, they were not on the streets fighting crime.
"We are there to help people," he said. "But officers could end up answering for the failures of another service."
Tony Hughes, regional organiser of the GMB union for ambulance staff, said he was aware of cases in which police officers had driven patients to hospital.
"It is about the ambulance service not having enough resources to met the number of calls," he said. "It is unfair on the police officers."
Essex Police said it did not know how often its own officers had driven patients to hospital.
A spokesman for the force said: "Ordinarily, officers should not carry civilian passengers to hospital in a police-owned vehicle.
"However, in exceptional circumstances, in cases of medical emergency police transport could be used as a last resort."
Mark Smith, chairman of the Essex Police Federation, said he had asked federation members on Facebook how often they are taking patients to hospital.
He said: "The answer appears to be daily. This is due to no ambulance arriving or waits of over an hour.
"It is being pointed out to me by officers on the ground. Something is going to go very, very wrong."
He said funding cuts, and not serving paramedics, were to blame for the problem.
"Police officers are stuck between a rock and a hard place," Mr Smith said. "We can't just leave people there.
"But we face a risk that if we put somebody in the car and they die, we are then looking at an Independent Police Complaints Commission investigation and the officer forever worrying whether they did the right thing."
Suffolk's police federation said it too had experienced issues, though Cambridgeshire said it was not aware of any problems among its members.