London helicopter crash: Crane man Nicki Biagioni found 'workplace on ground'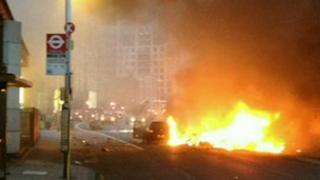 The operator of a crane involved in the London helicopter crash has told how he arrived to find his "place of work" lying on the ground.
Helicopter pilot Pete Barnes and pedestrian Matthew Wood were killed when the aircraft collided with the crane on Wednesday.
Crane operator Nicki Biagioni, of Ongar in Essex, said he was due to be inside the crane's cab at the time.
He said helicopters often flew lower than the height of the crane cab
His children, who usually wake him up, woke an hour later that morning.
Father-of-two Mr Biagioni, 30, told BBC Essex: "[I feel] very lucky of course, unbelievable, I'm still in shock I think.
"I can't believe it. If it wasn't for my boys not waking me up, that would have been it.
'People screaming'
"I would have been up there but I was late. I don't set my alarm any more because my boys come in and wake me up without fail at 04:30/05:00 GMT and that particular morning it was not until 06:00 so I was running a good hour late for work and normally I would be up there.
"I pulled into site as it all happened.
"Everything had gone crazy. There was stuff everywhere, people screaming, people running everywhere.
"I've been driving that crane for about two years now," he said. "It is just surreal to see your place of work, where I sit for 12, 13, 14, 15 hours a day, I sit up there, and there it is on the floor. It is crazy."
He added: "It has always been a thought, but I never thought it would actually happen. Helicopters fly by lower than the crane all the time."