Missing pet cat Miko reunited with owner after 10 years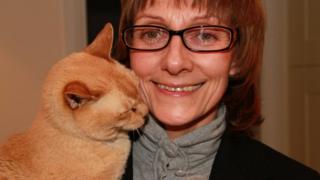 A pet cat that went missing 10 years ago has been reunited with his owner.
Miko, a 17-year-old red Burmese, was last seen by owner Sue White in August 2002 when she moved from Hutton to Brentwood, Essex.
Ms White, 56, said she had searched for Miko when he ran off into fields near her new home but after a few years had given up hope of ever seeing him again.
He was taken to a vet on 5 January and traced to Ms White because of his microchip.
She said: "I was jumping up and down. I can't believe it."
Ms White said Miko was taken to the vet in Blackmore by a woman who "lives in the middle of nowhere" and had found him on her doorstep.
'Poor eyesight'
The vet telephoned Ms White and left a message on her answer machine. She said she initially thought the vet had dialled the wrong number.
"Luckily I didn't delete the message before it finished," she said.
"As soon as they said Miko I knew it had to be my cat."
Ms White went to collect him later that day and believes he was well taken care of during his time away.
She said: "He obviously has been looked after because his coat is in very good condition, with no war wounds.
"He has more or less lost his vision and he was very weak on his back legs."
Miko is on medication for high blood pressure and has put on weight since being reunited with Ms White, who now plans to keep him as a house cat.
She said: "It's amazing, I still can't believe I've got the cat back."