Essex owner calls for licensing after dog's burns death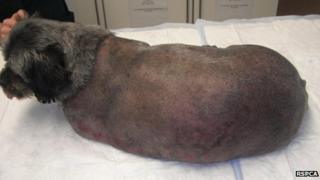 A dog owner has called for grooming parlours to be licensed after her pet was fatally burned by an industrial dryer in Essex.
Toni Rixson's lhasa apso Dusty was "cooked" and had to be put down after a visit to Kayjac in Grays.
The RSPCA said worker Victoria Ellis left Dusty in a metal cage under a dryer while she answered a phone.
Ellis, 38, of Chadwell St Mary and parlour owner Jacqueline Ward, 44, of Basildon, have both been fined.
Mrs Rixson, of Grays, said she was heartbroken over the loss of 13-year-old Dusty, who she described as "part of the family".
'Covered in burns'
"It makes me feel sick to think what he must have gone through and I wouldn't want any other animal to go through that," she said.
Mrs Rixson said she was told Dusty had a "small burn", and was advised to put antiseptic cream on it.
But the animal collapsed in the car and the extent of his injuries were apparent when he was taken to a vet.
"The vets were shocked, like us, and found he was just covered in burns underneath," said Mrs Rixson.
"What happened to him was torture. He was in the metal cage with the dryer on him and couldn't escape.
"A few days later they told us he was cooked on the inside, so we had to have him put down.
"I was devastated."
She added: "These places should be licensed and checked.
"If it was a regulated place it would have been closed down immediately while an investigation was carried out."
Ellis, of Little Bentley, and Ward, of Scott Road, were found guilty by Basildon magistrates in their absence of causing unnecessary suffering to Dusty.
The pair were each fined £500 at the court on Friday.
They were ordered to do 120 hours of community service and pay £249 each in compensation to Mrs Rixson - the cost of Dusty's veterinary care.
David Bowles, head of public affairs at the RSPCA, which brought the prosecution, said: "Owners are taking their pets to groomers without the security of knowing how safe their animals are.
"We are calling for the licensing of dog grooming.
"Without this, pet owners simply cannot be sure that they are leaving their dog in safety."
The BBC was unable to make contact with Kayjac or its owner.